Eco-designed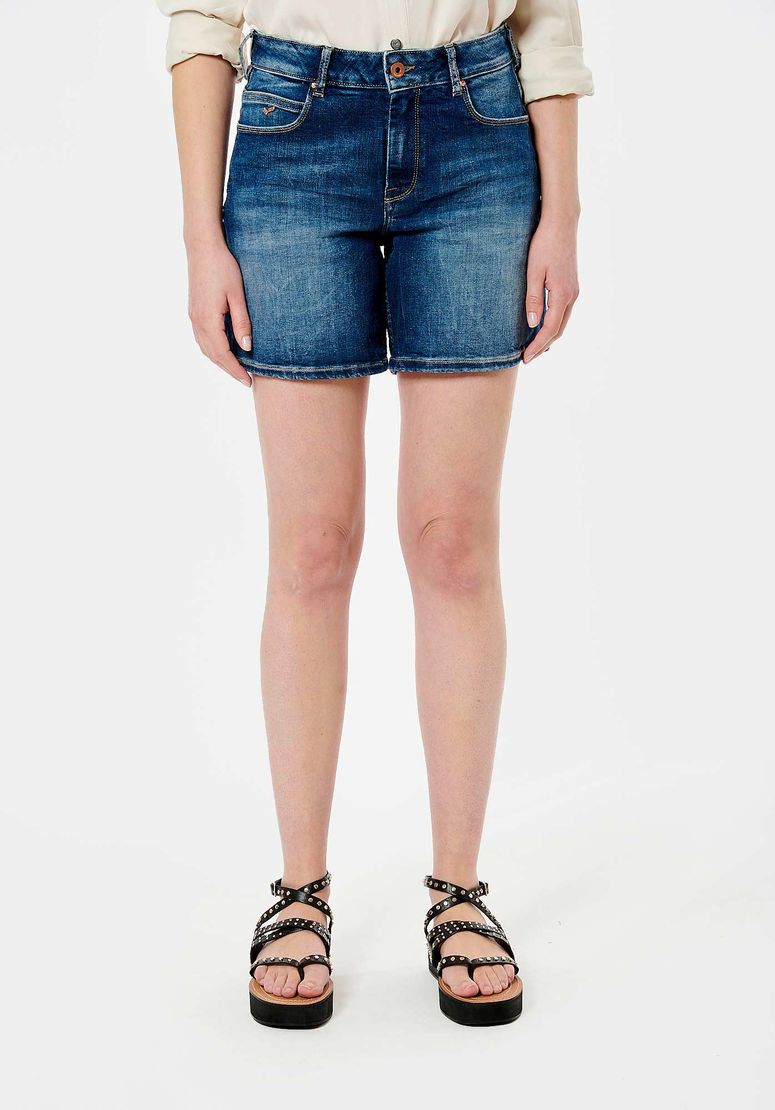 Denim shorts: a timeless wardrobe staple
First seen in the 1920s, and made into a woman's signature piece by the actresses of the 1950s, denim shorts have not aged a bit in over 100 years of existence. Originally, shorts were made of cotton or linen for a chic and elegant look. The arrival of denim models transformed this piece into a rebellious and sexy garment that was very popular with young women at the time. Since then, it has never left the wardrobe of women who proudly wear it every year with the return of the warm weather. It is now a must-have for the summer and will allow you to change from the traditional skirt or dresses. Assert your style and dare the jean shorts!
A basic pair of shorts available in several designs
Far from being a monotonous piece, denim shorts are available to suit every woman. In its most basic version in blue denim, they will match perfectly with all the pieces in your wardrobe. For a simple and effective look, opt for shorts with a straight hem, or with cuffs for a clean and stylish finish. Alternatively, you can choose a frayed style, which will give a worn and unstructured look, as if you had cut your own shorts.
To vary the styles, vary the colours! Blue is the most traditional colour, but you can also choose other colours: white is synonymous with refinement and brings light and shine to your outfit. Choosing a beautiful white denim will ensure total opacity and durability that will keep your shorts for many years. Colours such as grey and khaki are also sober colours that can easily be combined with other pieces. Looking for a touch of originality? Dare to wear printed shorts! Floral and natural patterns are perfect for a summer look and will turn your shorts into the highlight of your outfit.
Wide, straight, fitted, stretch, ripped, choose the model that matches your style and personality. Practical with its various pockets, and above all comfortable, it will be your daily ally in creating your most fashionable outfits.
An infinite range of looks
Tops and other garments in your wardrobe will go perfectly with this timeless piece. The shorts will show off your beautiful legs, so you'll be spoilt for choice when it comes to the top of your outfit. Women with a slim waist can choose a model with a gathered waistband and combine it with a t-shirt that fits directly into it, or a crop-top that stops just above the waistband. Beware, the gathered waistband tends to thicken the waist, so choose a thin top that avoids too much thickness at the waist. Paired with light shoes or sandals, this is the perfect outfit for sunny days. For an even more assertive look worthy of the best cowboy movies, pair your shorts with a colourful plaid shirt. A warm colour such as red, yellow or orange will bring a cheerfulness to your outfit. Complete your outfit with some nice heeled boots and you're ready for a night out with friends.
Finally, for a chic and sexy look, choose a nice black top with your shorts and match it with a pair of high heels. Success guaranteed!