History of Kaporal
FROM MC LEM TO KAPORAL

In 1979, the Mc Lem family, Marseille entrepreneurs, created a company specialized in denim: Mc LEM sas. The meeting with Anthony Birgin, designer and craftsman, marks the beginning of a flourishing partnership. His original jeans, in the air of the time and low prices, are a great success with young people. The women's line is Miss Mc LEM and the men's line Mc LEM JEANS. In 1991, the Marseille basin was shaken by the increased competition from Chinese productions. Mc LEM does not escape this blow of the spell. The family sells its wholesaler activity and converts into the DENIM fabric. In 1993, Mc LEM refocused the activity of the company in the production of canvas from Morocco. Faithful to its values, the integrity and the requirement that forged its reputation, it recreates on the other side of the Mediterranean, with new partners, the authentic spirit of the Marseilles textile and then returns with success. The beginning of the 2000s is marked by the reign of the Italian denominators who impose their style with low cut cuts and the trend of washing and pieces sold for nearly 200 euros. With its know-how and family heritage, the Mc LEM family has an intuition. There is room in this market for fashion jeans, good quality and affordable price. In 2004, bubbling with ideas, she decided to enter the market. Surrounded by enthusiastic and creative stylists, she creates the KAPORAL brand.
YEAR AFTER YEAR, KAPORAL AFFIRMS ITS SUCCESS

Thanks to effective communication and a strong identity, Kaporal quickly confirms its success. Listening to the market, Kaporal seizes every opportunity to expand its collections and become a trendy ready-to-wear brand offering a developed range of accessories (eyewear, watches, shoes, leather goods ...), and recognized for its expertise. to do in denim. Each year, the brand expands and embarks on new projects: licensed accessories, junior line, network development. Today Kaporal has a network of more than 1,600 multi-brand retailers, more than 100 boutiques, including some thirty franchises, a new concept store and is positioning itself as a real alternative to international brands.
Kaporal, a French success story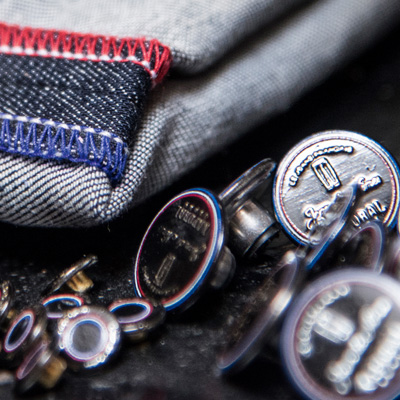 Kaporal, a creative brand that always looks beyond
SPECIALIST OF DENIM BUT ALSO BRAND LIFESTYLE

In 10 years, the brand has significantly expanded its collections with lines of clothing and accessories for men, women and children. It's around the jeans that she built her identity. She handles with skill the cuts and the fading and proposes each season of the models that she signs with an inventivity constantly renewed of K of Kaporal. It is inspired by American values, casual trends while constantly reinventing vintage products from thrift stores from around the world. Armed with a team of stylists, from year to year, the brand has affirmed its vintage and trendy style to achieve a maturity in its collections that gives it a true legitimacy of lifestyle brand and recognized as such. Kaporal is a brand that does not leave indifferent, a brand with a strong character, a style recognizable and assumed.