Last pieces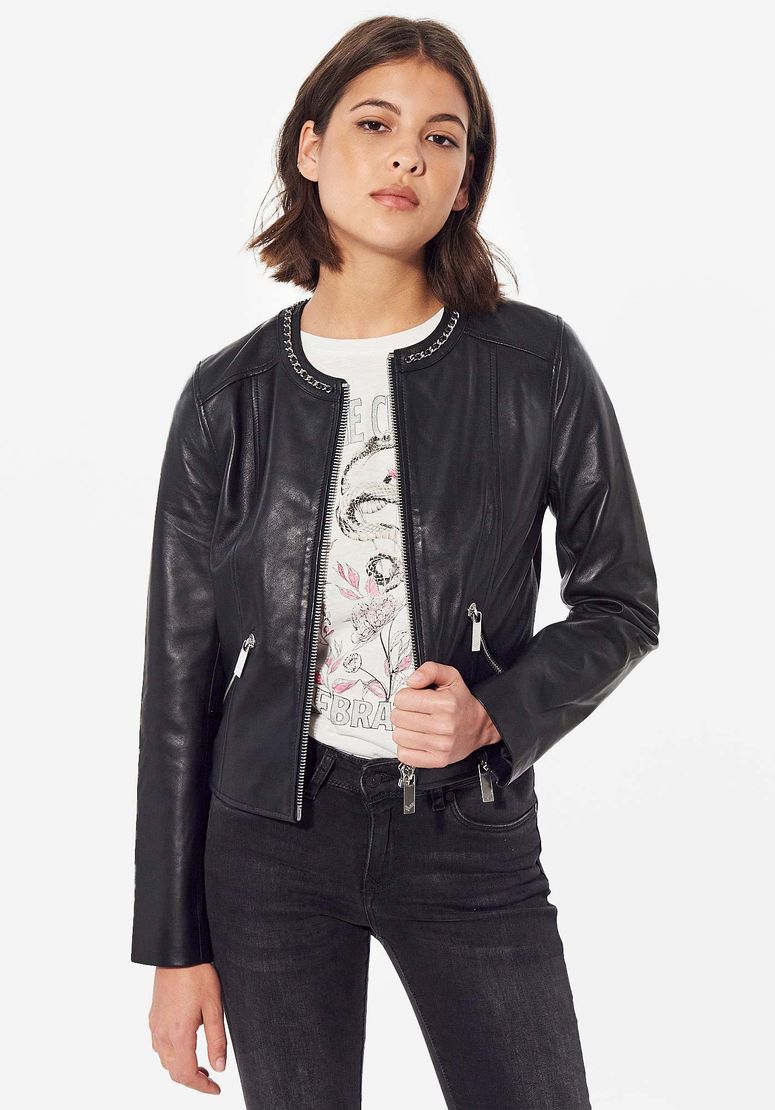 Last pieces
Last pieces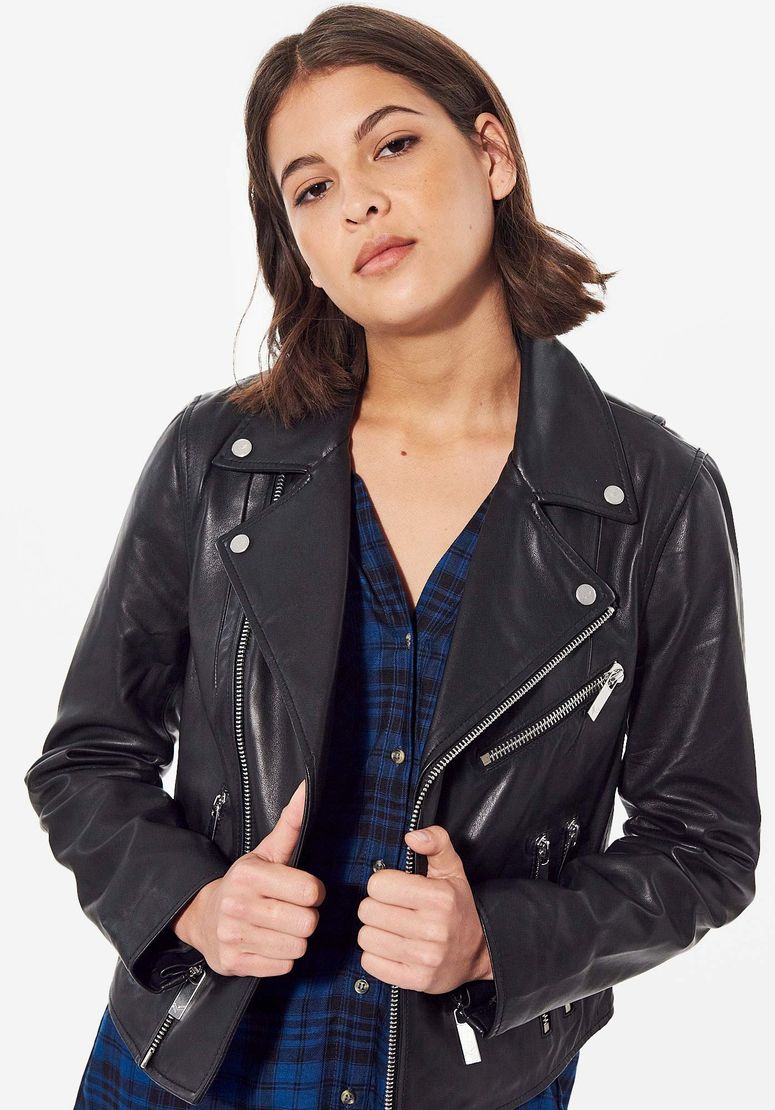 New
The women's leather jacket is a classic in every woman's wardrobe because of its elegant and trendy look and its timeless character. Made from a noble and durable material, the leather jacket is a true standard in the fashion world. It adopts feminine and timeless lines to invite itself to all occasions: to be worn every day, when going out and during leisure activities, in winter as well as in mid-season! Rock or biker look, whether you want to emphasise a rebellious side or you are looking for a jacket to wear with all your clothes: choose the masterpiece of your looks from our collection of jackets in multiple colours.
Leathers items with feminine cuts
Do you like the biker style and are looking for a bomber jacket, or do you want to go for a 100% biker perfecto, which gives you a dressy look while giving the impression that you're going to ride your bike? Or are you a woman who prefers to stick to a more classic look? Our leather jackets open up a whole new world of possibilities for you! Whether lambskin or sheepskin, imitation leather, wool, synthetic fur or velvet: you can dress up warmly this winter with stylish jackets. We also offer you different cuts: round collar, buttoned or with lapels... Many details contribute to the style of your future leather jacket for women.
A quality leather jacket
More than a purchase, a woman's leather jacket is a real investment. We have selected for each model a quality skin, lambskin or sheepskin, which will slowly patina with the years for a very successful effect. Even though the price is higher than a leatherette garment, your jacket will stay with you for a long time and will see the country with you.
Special attention has been paid to detail: straight or slim fit, inside or outside pockets, visible or invisible seams, outside or inside, each reference is a clever mix of design, craftsmanship and elegance.
You need to look good, but you also need to stay warm! Some models are warmly lined to accompany you all winter long, while other jackets are lighter and are best worn in mid-season, in autumn or spring.
Each jacket is available in several sizes, XS, S, M and L, so you can easily find the model that will perfectly fit your figure.
How to wear a women's perfecto?
The leather jacket offers style and elegance to your outfit whether you are looking for a dressy, casual or everyday look. To find out how to wear your leather jacket, we suggest you match it with different pieces in your wardrobe.
Rock casual look
Timeless, the perfecto can be worn with black slim or raw jeans and a white fitted shirt, accompanied by a pair of pumps for a feminine casual style. Combining elegance and rock, the leather jacket brings out the most modern contrast.
Bohemian look
Accompanied by a long, flowing floral dress and a pair of ankle boots, your women's perfecto will enhance a country and bohemian style. The play on materials will contrast your outfit with style.
Casual look
If you're thinking of a more casual look, you can wear your leather jacket with faded jeans and a sweatshirt, leaving the sleeves and hood hanging out. Ideal for a weekend stroll or for running errands, this piece of your wardrobe will go everywhere with you.
Festive look
Finally, if you want to look stylish for a night out, pair your leather jacket with a little dress or black skinny jeans and a sequinned top. Summer or winter, your perfecto will add the finishing touch to your outfit. All that's left to do is slip on a pair of heels for an ultra-fashionable look.
How to choose a woman's leather jacket?
The leather jacket is worn close to the body to prevent the wind from penetrating. Beyond the leather material which does not let the air through, you must take care to choose your size to wear it as well in autumn as in winter. Choosing a leather jacket with a good fit around the shoulders will keep you warm, and the leather will soften over time, so you can wear it with a large knitted jumper.
Depending on your body type, you should make sure that you have freedom of movement and that the sleeves do not ride up too much when you move, which would make your leather jacket uncomfortable to wear. To choose the right size for your leather jacket, it is advisable to take your measurements:
shoulder circumference

chest size

waist circumference
How to take care of a woman's leather jacket?
To maintain your jacket, you need to clean and nourish the leather. To begin with, you need to clean the textile with a wet wipe or towel and a little soap. This step will allow you to remove any dust that settles in fine particles on the leather. You can also lightly insist on the areas that tend to grease, such as the sleeve ends or the collar. Then let your leather jacket dry on a hanger.
Cleaning is imperative before waterproofing your leather jacket, otherwise the dirt will be attached to your leather. Avoid coat racks or coat hooks that may distort your jacket or create unwanted creases. Once cleaned, the leather must be nourished. This step should be repeated every year with a care lotion. As leather is a natural material, it can dry out and deteriorate over the years. To avoid cracks and colour differences, the care lotion should be applied to the entire leather surface. Massage it into the leather in a circular motion. Do not hesitate to test your product on a small area before spreading it over the whole jacket. The care of a leather jacket and a faux leather jacket is identical. You must respect the cleaning and drying stages before feeding your leather or imitation leather.
How to waterproof a woman's leather jacket?
Depending on the leather, it is strongly recommended to waterproof your perfecto. Cowhide or buffalo leather tends to be greasy and can leave marks on light-coloured clothing. Waterproofing a leather jacket should be done at a distance from the fabric (at least 30 centimetres) with a special leather product and in an even manner to avoid stains.