New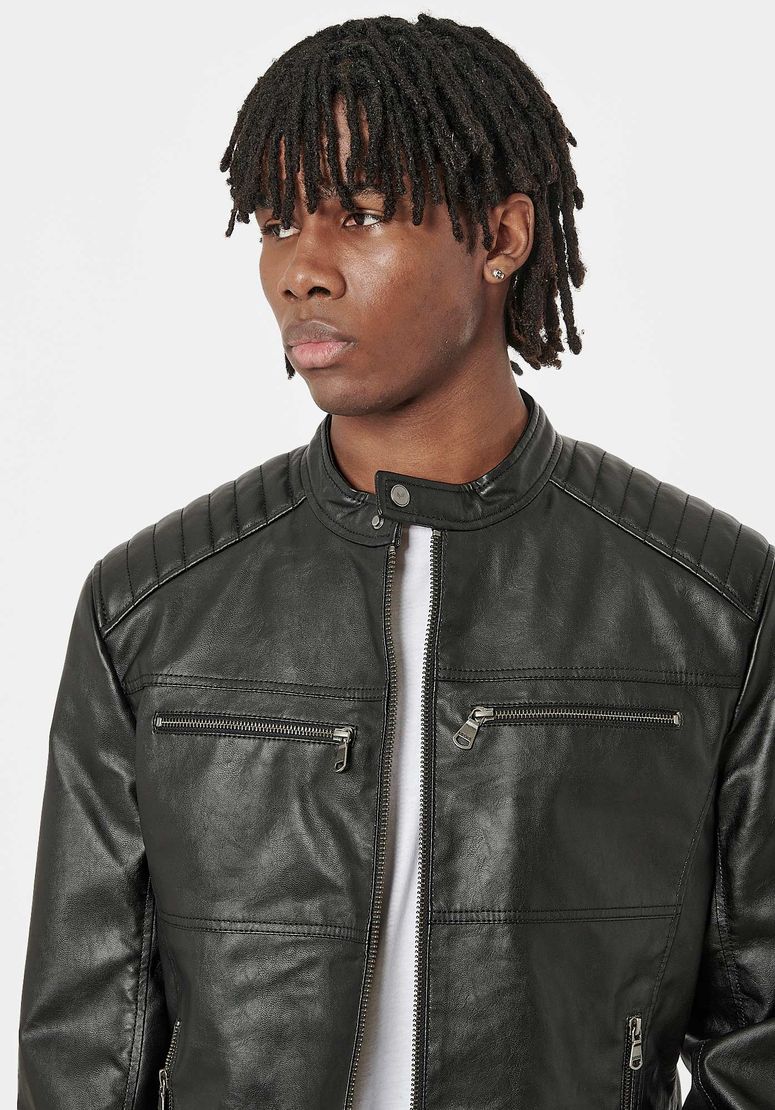 Last pieces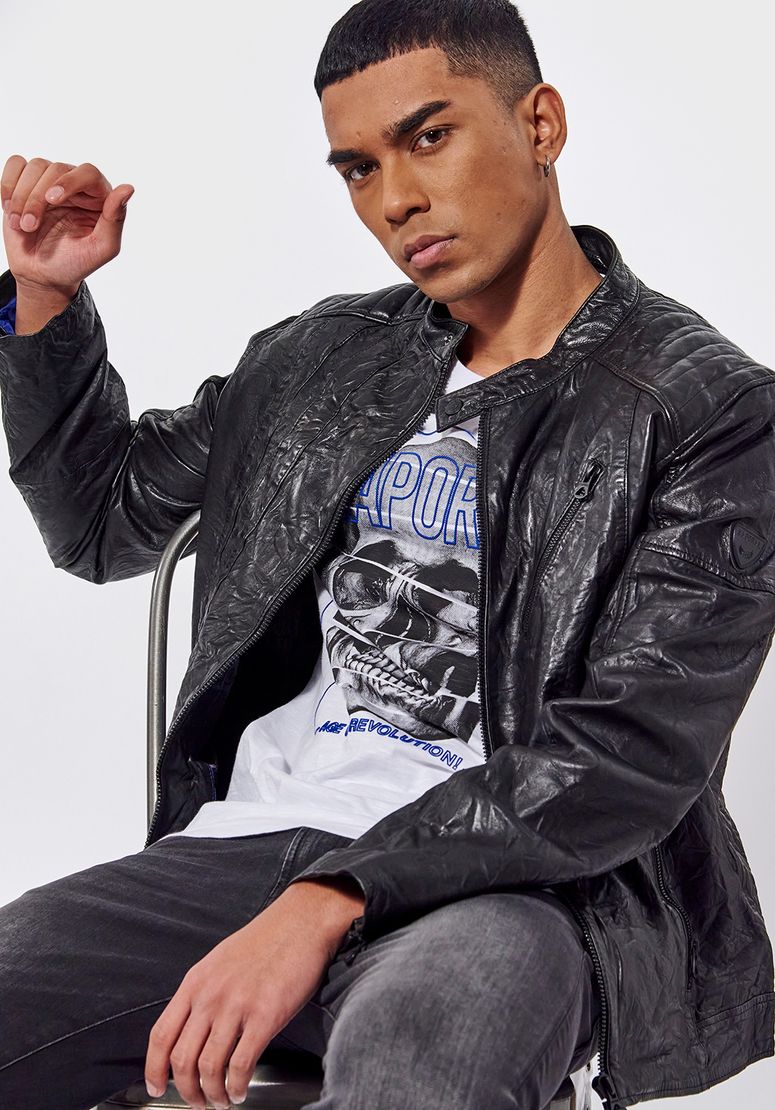 Last pieces
New
Adopt a modern and trendy look by choosing your future leather jacket from a selection of original models. Find your leather jacket in Teddy style, classic cut, biker spirit, perfecto look or bombers, with zip or buttons, available in all sizes from S to XXL. Go for a chic, sporty, casual or clearly trendy look. Black or brown, with a buttoned collar or sherpa lining, the Men's leather jacket is available in a range to be worn every day, in mid-season or in winter.
Trendy leather cuts
The leather jacket is a timeless item of the man's wardrobe. It can be worn for dressy, casual or even sporty outfits, while remaining elegant in all circumstances. Always in fashion and available in all seasons, leather can be adapted to many situations.
Practical, your leather jacket can also, depending on the model, have multiple pockets with zips or buttons to help you keep all your personal belongings safe and within reach.
Finishes and details for quality leather items
Kaporal pays particular attention to finishing touches and details. Each product has been the subject of in-depth reflection at each stage of its design and manufacture. The choice of a quality skin, for example 100% sheepskin or lambskin, the association with other materials such as wool or cotton or a quilted effect, a warm layer for winter or a lighter one for mid-season, the straight or fitted (slim) cut, the presence of external and/or internal pockets, the diversity of collars (buttoned or sherpa type), the colour, black or brown, the addition of a zip to the cuffs are all details to which Kaporal has paid particular attention. In small or XXL size, each jacket available in our collections, in stock or available for pre-order, has been thought and designed for you. Well cared for, your jacket will accompany you for many years and you will wear it in winter or mid-season.
How to wear a man's leather jacket?
The leather jacket brings to your style the elegance you were looking for. To wear a leather jacket well and highlight your rebel, rock or street look, we suggest you associate your jacket with different pieces of your dressing.
Casual rock look
In order to impose a rock look, or even a bad boy look, you can bet on the timeless perfecto. It goes very well with black or raw slim jeans and a shirt, accompanied by a pair of chelsea boots or lace-up shoes. Combining rock and refinement, the leather jacket brings out the most modern contrast for all men who dare to use this material.
Biker look
Paired with a pair of leather boots, your leather item will showcase a biker style without the need to invest in the bike. You can play with contrasting materials by choosing a leather jacket with shoulder and elbow patches, or emphasise the detailing with seams and zips. Worn with a pair of trousers with an oiled effect and a white T-shirt, you'll feel as comfortable as you look.
Casual look
If you're thinking of a more casual look, the leather jacket and faded jeans, with the sleeves and hood of your sweatshirt showing, are the perfect combination. Ideal for a walk in the city or even for shopping, this piece of your wardrobe will accompany you everywhere.
How to choose a leather jacket for men?
The leather jacket for men is worn close to the body to prevent the wind from getting in. Materials such as leather do not allow air to pass through. However you should pay attention to the size of the jacket so that it fits properly. By choosing a men's leather jacket that is fitted at the shoulders, you can be sure to stay warm. Consider trying on your leather jacket with two layers of clothing so that you feel comfortable in the fall with a long-sleeved shirt and in the winter with a chunky jumper. Leather is a material that softens over time, so take it tight without being too small.
Whatever your body type, you should be able to move freely. The sleeves should be long enough that they do not ride up when you move, which would make your leather jacket uncomfortable to wear. To choose the right size for your men's leather jacket, you can also compare your measurements with those of your jacket once it is laid flat:
shoulder circumference

chest size

waist circumference